I'm always on the look out for different and unique figs. Figures that can be re-purposed, converted and given new life always catch my eye. I was working on a MechWarrior inspired project (more on that later) and I ran across some singles that would fit perfectly into 15mm Sci-Fi. They are the Salamander and Undine Battle Armor from the MechWarrior Age of Destruction release.
The Salamander Battle Armor figs come one to a base. I just popped them off the clicky bases, glued them on US pennies, based them, gave them a black wash and picked out highlights.
Salamander Battle Armor




The Undine Battle Armor come 2 to a base. I finished these off in the same manner as the ones above.
Undine Battle Armor




In the comparison pic, below, you can see their size compared to a Rebel Mini Policeman and a Peter Pig US Marine. The Salamander suits are in a crouched over walking pose, giving this example the sense of being smaller than it is.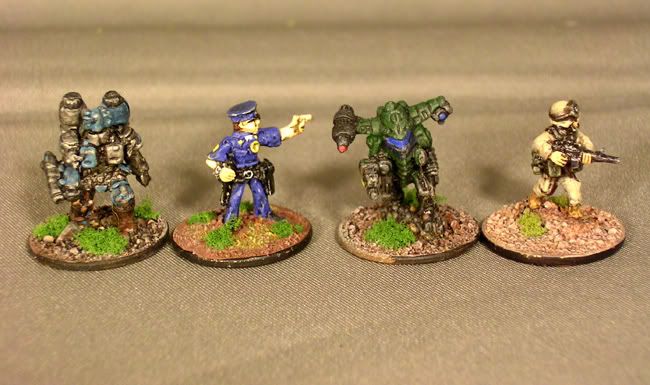 (L to R) Undine BA, Rebel Mini Policeman, Salamander BA, Peter Pig US Marine
All in all they fit the part, and can be gotten at excellent to reasonable prices, depending on how to procure them. Both of them are still fairly available through online sources for about .49 cents each. Buying them from people who are dumping their collections (like I did), you can purchase them for pennies apiece.